« Back to "Practice blog"
26th March 2015
James Rowlands was one of the experts who pitched their ideas for getting it right first time for victims and families to our Dragon's Den at our conference in February - his pitch was voted the winner by the audience. Here he explains how his idea would work to keep victims and their families safe.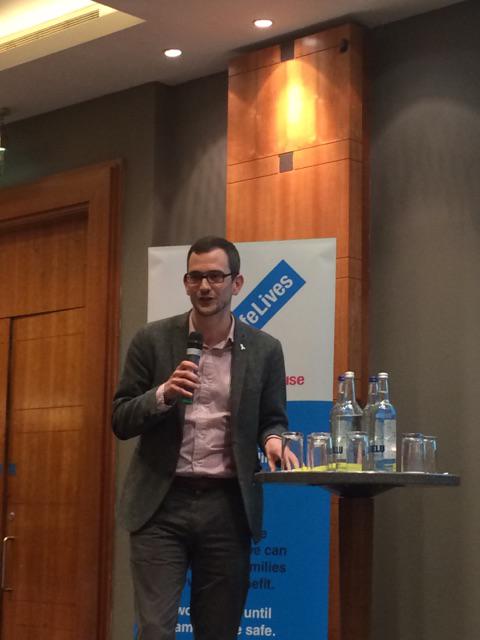 Most services, regardless of their core activities, will come into contact with victims of domestic abuse or other forms of violence against women.  That might be abuse which is experienced by someone using their service, but it might also be abuse that's being experienced (or perpetrated) by a member of staff. Services need to be able to respond to this effectively, so making domestic abuse everyone's business is a chance to make sure we really do get it right first time.
My proposal is to build domestic abuse (and other forms of violence against women) into contracts when commissioning services, so that commissioners make identifying and responding to violence & abuse a core requirement. This is sometimes called 'horizontal commissioning' – it means writing in an expectation around the type of response commissioners want from services when they are preparing and agreeing contracts.
Obviously the type of response depends on what is being provided. At its simplest, it might mean ensuring that there is a workplace policy, so that the service is able to respond appropriately to a situation where someone is affected by abuse and knows where to refer for help and support. If you take the example of a contract for a refuse service, you wouldn't want them (nor would they be able) to check for domestic abuse in every house that they collect rubbish from. But what you can ask them to do is to make sure they have a policy in place in case one of their employees makes a disclosure, so that they can make sure that person is safe in the workplace and knows where to access support.
For those services with more targeted or specialist contracts – say providing financial advice, housing or working with people with substance misuse issues - you could have a greater level of expectation. So for example, as well as a policy for staff, they might be required to make provision for staff training, undertake opportunistic enquiry and play a part in a local care pathway ('Ask and Act'), as well as contribute to data collection.
In Brighton & Hove, we've been working on guidance to this approach, and are looking to pilot it in contracts for housing-related support and public health. This is an opportunity to ensure domestic abuse (and other forms of violence against women) are consistently identified as a priority by commissioners, enabling in turn best practice to be cascaded to services and frontline practice.  So now it's about working to get this embedded in local contracts, evaluating the impact and then working to make sure we can contribute to a wider change in culture through this small, practical step. It doesn't really cost commissioners anything to put these conditions in place, and the response from commissioners, colleagues in procurement and local specialist services has been really positive so far.
James Rowlands is strategic commissioner - domestic violence & sexual violence and violence against women and girls - for Brighton & Hove and East Sussex.